Looking at the list beforehand, you will notice that most of the recommended paella restaurants are located in Barceloneta's neighborhood and this, friends, it is not a coincidence! The origin of such a popular neighborhood is strongly associated with the different phases of the harbor construction. These lands were reclaimed from the sea and occupied by fishermen and sailormen. After the Succession War, the inhabitants of La Ribera district were relocated in this area, because Philip V, the first member of the Bourbon dynasty, ordered to demolish their houses to build La Ciutadella (a military settlement). Was back then in 1753, when La Barceloneta started to have the appearance of the neighborhood nowadays receives us with hanged clothes on the balconies and salt smell. This area with strong sailor character and cradle of the industrialization in Barcelona, has become the paradise of tapas. Nowadays, it is the meeting point you must not miss if you are a sea food lover. Modernized between 1986 and 1992, for the Olympics, enjoys now a bohemian and Mediterranean environment. For the most fearless sailors, we do recommend contemplating La Barceloneta from the sea in one of the boats that depart daily from the harbor, called, "Golondrinas" (Swallows in English). A fantastic experience that you can pair with some of the best paellas and sea food in town! Here you have our selection:
1. The Suquet de l'Almirall, Barceloneta.
This restaurant transports us to the origins of Barceloneta's neighborhood. Back in the day, was formerly an old repair shop for boats Nowadays, thanks to their family legacy, the 4th generation leads this excellent restaurant. Do not hesitate to taste their Sepia croquettes, Broken eggs with lobster and truffle or the Monkfish Romesquet sauce!
Details
Address: Passeig de Borbó nº 65
Telephone: +34 932 216 233
Price per person: Between 30 € to 50 €
Menu for groups: Two menus; one at 55 € and one at 70 €
Daily menu: only from 29 Nov. to 2 Dec. to 18 €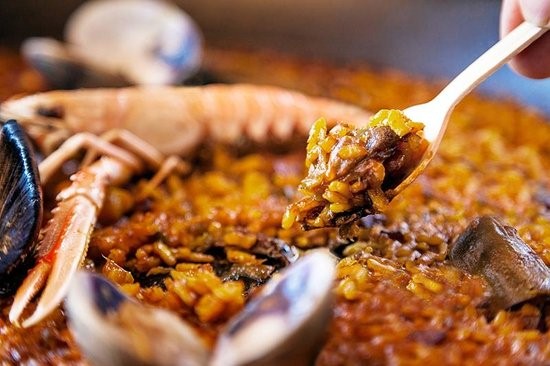 2. Can Solé, Barceloneta.
Founded in 1903, it is one of the most picturesque gastronomic corners of Barceloneta. Remarkable personalities like Joan Miró, Joan Manel Serrat or Dr Fleming have tasted the paella in this fancy restaurant. It also has an excellent wine list, where you can find Clot dels Oms red wine from Ca n'Estella winery. Do not miss it!
Details
Address: Carrer San Carles, nº 4
Telf: 93 221 50 12
Price per person: Between 50 € and 100 €
Menu: There are no menus.
3. Can Ramonet, Barceloneta
Can Ramonet was a wine store first, a fishermen tavern after and it ended up leading the gastronomy of this maritime district in 1956 when it became a restaurant. The owners, founders of "El Nou Ramonet" and also the Vinoteca, a cozy wine store with excellent selection of wines, cavas and liqueurs! To taste their; Mussels from the Delta of Ebro river, the Ramonet bomb or the Fisherman's Soup!
Details
Address: Street Maquinista nº 17
Telephone: +34 933 193 064
Price per person: Between 25 € to 60 €
Menu: There is a daily menu at 18 €.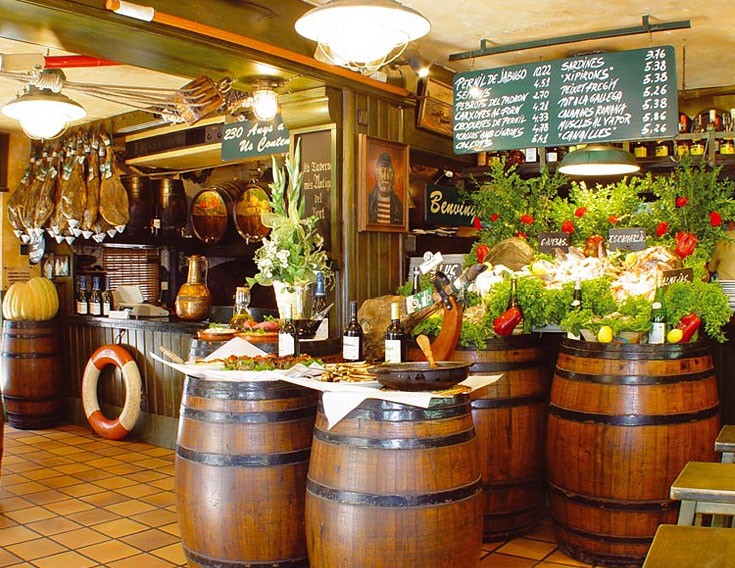 4. Can Majó, Barceloneta.
This restaurant was opened in 1968 in the seaside district of Barceloneta. The love of seafood has been handed down from generation to generation starting with the grandfather's legacy, who used to be a fisherman. Nowadays this family business, managed by parents and children, is backed by more than 40 years of experience in the kitchen. We recommend you taste their Lobster paella, Knives from delta of Ebro river or the Sea nettles to the Andalusian way!
Details
Address: Street Almirall Aixada nº23
Telephone: +34 93 221 54 55
Price per person: Between 50 € to 90 €
Menu: There are group menus.
5. El Xiringuito de l'Escribà, Barceloneta.
Founded during the memorable Olympic Games of 1992, this restaurant enjoys excellent views of the Mediterranean Sea and a relaxed family atmosphere. Their motto is Rice gives happiness!
Details
Address: Avenue Litoral nº 62
Telephone: +34 932 210 729
Price per person: Between 30 € to 50 €
Menu: There is a Children's menu.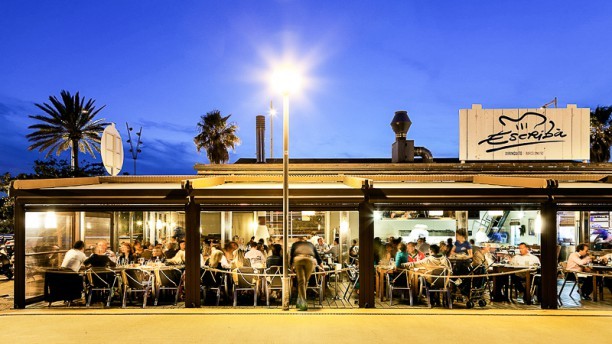 6. The Cheriff, Barceloneta.
Time travel is possible in this familiar restaurant. Please do not be scared by the façade because culinary delights awaits you inside. An excellent team welcomes us in a very relaxed atmosphere perfect for making new friends including local people. The paella is without a doubt their signature dish.
Details
Address: Street Ginebra, nº 15-17,
Telephone: +34 933 10 07 60
Price per person: Between 50 € to 80 €
Menus: Two Tasting Menus of 50 € and 70 €
7. Arroseria Xàtiva, Les Corts and Gracia
L'Arrosseria Xàtiva has two locations in Barcelona: the original one is located in the neighborhood of Les Corts and, the second one, in the neighborhood of Gracia. Traditional and familiar restaurant, where its main ingredient is Bomba Rice from Delta of Ebro river. Only here you can enjoy 30 different varieties of genuine Valencian and Catalan paellas as well as rice dishes.
Details
Address: Les Corts (Street Bordeaux nº 35) and Gracia (Street Torrent d'en Vidalet nº 26).
Telephone:+34 933 226 531
Price per person: Between 30 € to 50 €
Menu: There are no menus
8. Botafumeiro, Gracia.
Prepare your wallets if you want to enjoy the delights of Botafumeiro. It is considered a reference point for seafood in Barcelona. Its raw ingredients are, undoubtedly, the best in the market and its cuisine is the result of the Galician and Mediterranean fusion. Their high prices are justified by the high quality and exclusivity of their fresh and seasonal products. In this classy restaurant you could taste; their Beluga's caviar, Sole fish to the cava and shrimps or their Seafood casserole.
Details
Address: Street Gran de Gràcia, nº 81
Telephone: +34 932 184 230 / +34 935 155 151
Price per person: between 75€ to 150€
Menu: There are no menus.
9. L'Olivé, Eixample.
Offering an authentic and traditional Catalan cuisine, L'Olive has become one of the most outsanding restaurants in Barcelona. Wide spaces and minimalist decoration, along with an excellent selection of wines from all over the world are waiting for you. We recommend you to taste; Calcots (if it is the season), Nails "a la llauna", Trinxat, Escalivada, Broad beans in the Catalan way and many other classics from the Catalan Cuisine.
Details
Address: Street Balmes, nº 47
Telephone: +34 934 521 990
Price per person: between 50€ to 100€
Menu: There are group menus.
10. Martinez, Montjuic.
If you want to eat good paella and to enjoy great views of the city, this is your restaurant! Martinez is located in the mountain of Montjuic and offers a jaw dropping panoramic view in its wide terrace.
Details
Adress: Street Carretera de Miramar, nº 38.
Telephone: +34 931 06 60 52
Price per person: between 45€ to 80€
Menu: There are group menus.