So, you just arrived to Barcelona and you are starving. Time to get yourself some traditional grub, but you do not want to have the uber-ubiquitous paella and sangria. What to do? Well, luckily for you there are many delicious dishes in Catalan cuisine and plenty of restaurants in Barcelona to give them a try. So, are you ready to challenge the opinion of the masses and become a gastronomic hipster? Yes? Then let the taste begin!
Traditional calçotada
Like the Transformers, there is more to this humble veggie than meets the eye. At a simple glance it looks like and oversized leeks, and as such, something condemned to share space with lettuce and tomatoes in a salad bowl. But the calçot is in fact a sweet cousin of the onion that has to be grilled over fire (there has to be flame, embers are not enough) until the outer layers are charred. They are then bundled together in bunches of around 25 and wrapped around newspaper sheets so they finish cooking under their own heat. Before eating them, you need to peel the charred outside with your hands, and them dip them into the romesco (a pine nut and red pepper-based sauce). Some restaurants do provide grownup-sized bibs, since you will have to raise the romesco-covered calçot over your head and eat it like a shark would swallow a surfer if you want to look like true local. Calçots are usually followed by a barbeque or any other meat dish, such as our next entry.
- Restaurante Carmen - Carrer de Valladolid, 44 (+34 933 30 36 88)
- El Jardí de l'Àpat - Albert Llanas, 2 (+34 932 85 77 50)
Butifarras
They are a traditional type of sausage made with very little or no fat at all. There are two main varieties; one that is raw and has to be cooked, the other one that can be sliced and made a sandwich with. But what makes the butifarra great is its endless possibilities: do you want it with mushrooms? You got it; Feeling a little bit adventurous? We have you covered with an apple and curry butifarra. It might sound like fast food, but hey, this is Spain and we do not do anything fast.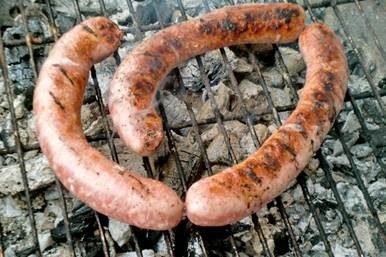 - Butikfarra - Passatge de París, 209 (936 76 36 98)
- La Guingueta de la Barceloneta - Playa de San Sebastián; Barceloneta (+34 628 273 578)
Bombas
There are many versions as to the origins of this tapa comprised of minced meat surrounded by mashed potato and covered in hot sauce. What is clear nowadays is that the best and oldest places in town to give them a try are all located in the old fisherman's quarter of La Barceloneta. Some of them will even offer different levels of spiciness, from the ones with only allioli (a type of garlic mayo) to the "explosive" ones, only suitable for the bravest of customers. But don't get fooled by the fact that it is a tapa: depending on the size, they can be quite filling!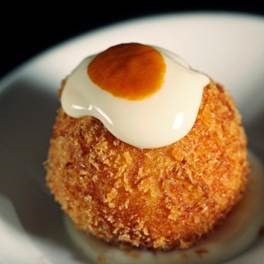 - Cova Fumada - Calle Baluard, 56 (+34 932214061)
- L'Òstia - Plaça de la Barceloneta, 1 (+34 932 21 47 58)
Gambas de Palamós
If you are crazy for seafood why not head to one of the many local markets and get yourself some fresh Palamós prawns. These crustaceous are the VIP of the fishmonger stands and as such they are highly regarded. Ideally, you should simply grill and season them with salt, garlic and parsley, to let the flavor of the prawns shine. Summer is their best season and you won't regret trying this delicious delicatessen, especially if you pair it with a Penedès white wine.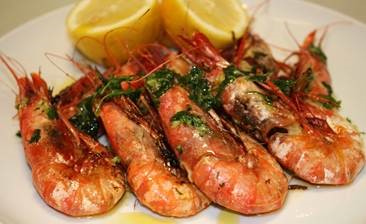 -Mercat de Santa Caterina
-Mercat de Sant Josep (La Boqueria)
Cargols
For those adventurous and open minded among you, there is always the option of trying out new things. Snails are a very popular dish in Catalonia, yes! You read it right! Snails. These little animals are so famous that they even have a food festival dedicated to them: L'Aplec del Cargol that literally means the Gathering of the Snails. If you are around Catalonia at the end of May, it could be interesting to visit Lleida, a two hour drive or train ride from Barcelona, and the venue of the Festival.
Do not forget the bread to dip!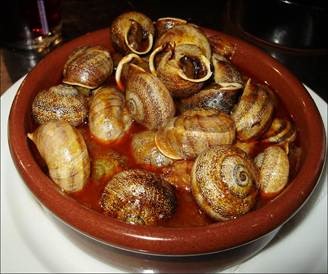 -Racó d'en Pat - Travessera de les Corts, 298 (+34 932 26 02 96)
- Los Caracoles - Carrer dels Escudellers, 14 (+34 933 01 20 41)
Crema catalana
All cuisines around the world have sweet treats, and the Catalan is not an exception. Crema catalana, our most popular dessert, it is made with eggs, milk, cinnamon and lemon, served in small plates and covered by a thin crispy sugar layer. A little piece of trivia: the first references about crème brulee are found in "Nouveau cuisinier royal et bourgeois du cuisinier François Massialot" in 1691, whereas crema catalana is already mentioned in the "Llibre de Sent Soví" from 1324. Just some food for thought.
NOT creme brulee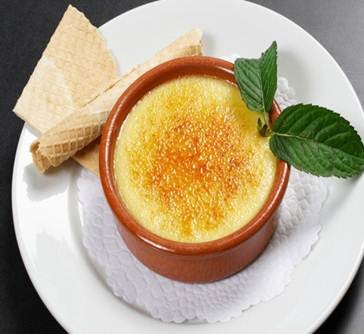 - Granja Dulcinea - C/ Petritxol, 2 (+34 933 02 68 24)
- Julivert Meu - C/ Bonsuccés, 7 (+34 933 18 03 43)